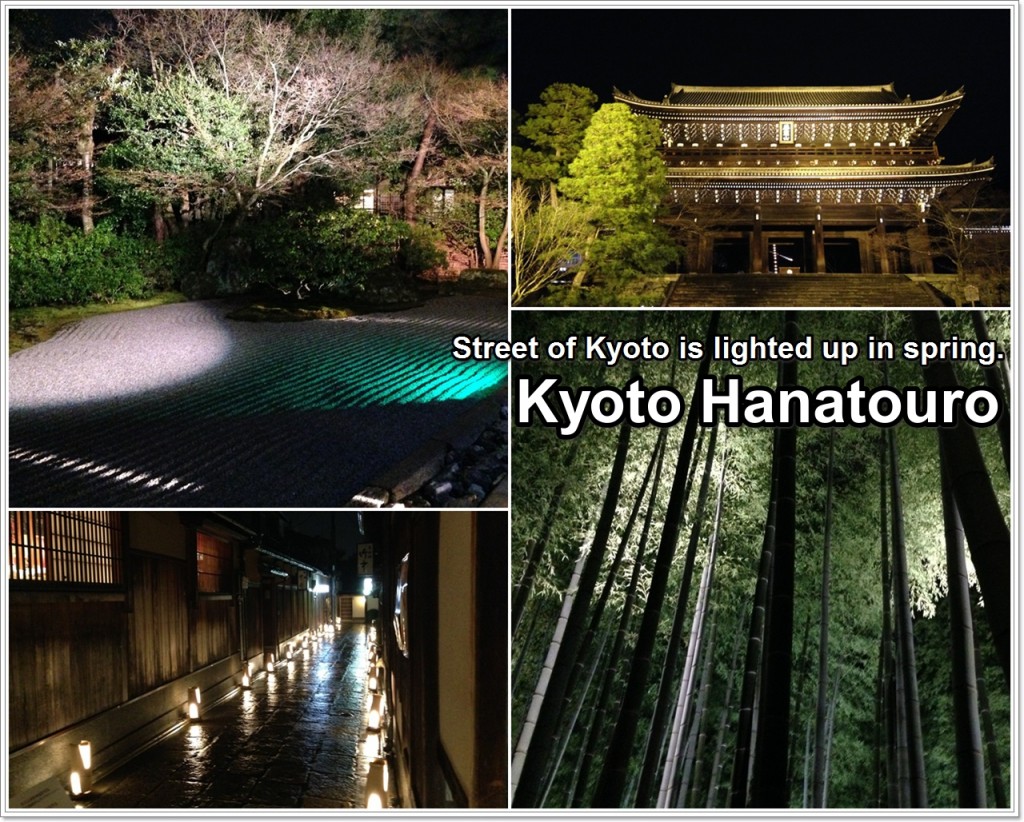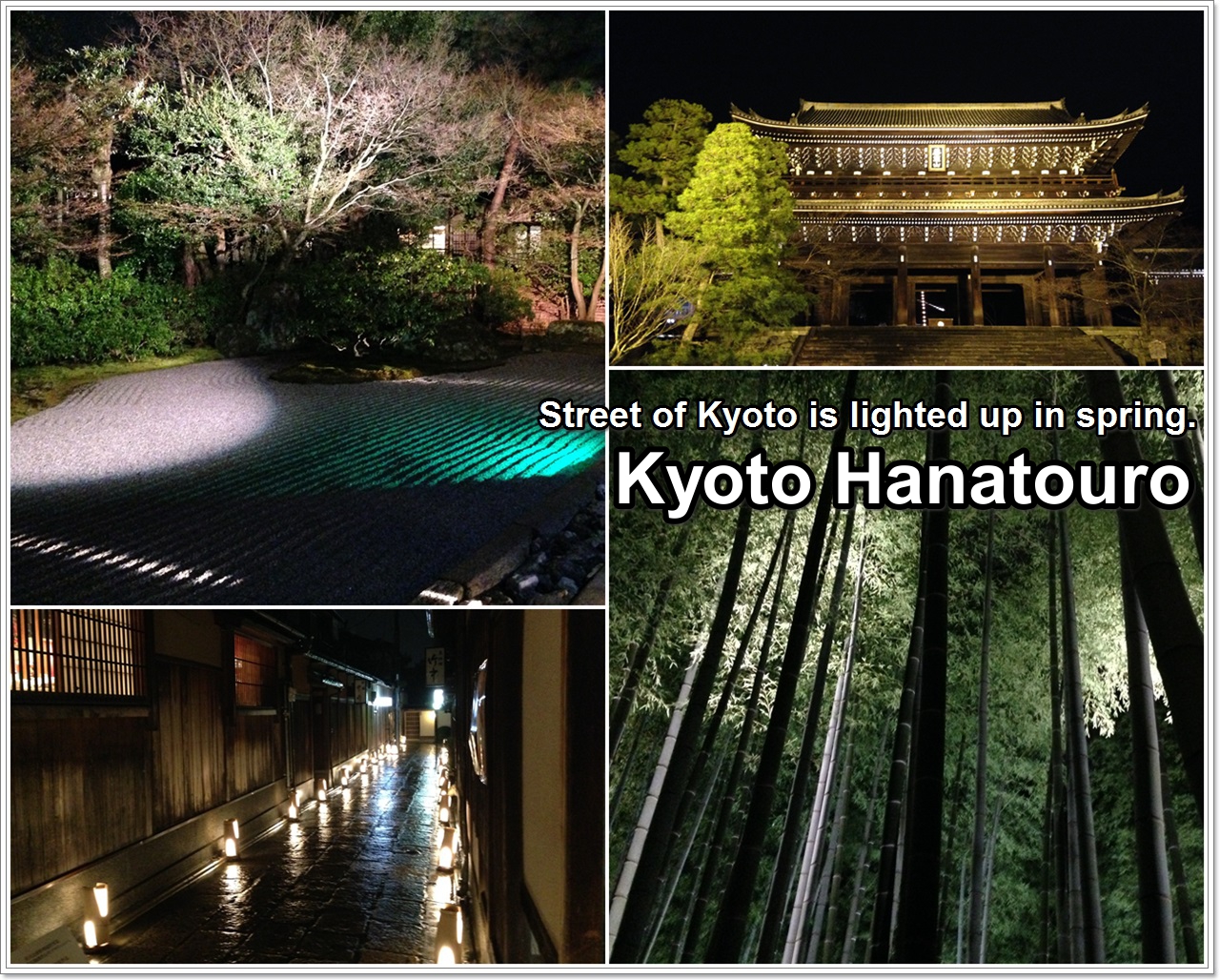 Kyoto(Higashiyama) is lighted up every year in March at night.
This event is called "Kyoto Hanatouro" and is performed every year from 2003.
In addition, only during this period, you can see the temple in particular in the night. Unlike the daytime, you can enjoy a night fantastic atmosphere! d(*゚ー゚*)
This event is held every year in the middle of March.
Contents:
1.Kyoto Higashiyama Hanatouro
Higashiyama Hanatouro (Flower Lantern Road)

As the spring tourist season gives way to March, you can experience a special illumination event called, "Higashiyama Hanatouro" at Higashiyama, one of the most popular sightseeing spots in Kyoto. Here, hundreds of lanterns made of bamboo and ceramic ("Andon") line the evening streets and bamboo forest, illuminating the path and creating a magical atmosphere. Nearby temples and shrines also hold their own special illumination events.
Higashiyama Hanatouro features a variety of other events and exhibitions as well, including an extensive display of Ikebana, the traditional Japanese art of flower arrangement, a small concert with guitars and the ancient Shaku-hachi flute, and classical Geisha dance performances.
引用(citation):http://kyoto.travel/en/planyourvisit/events
"Kyoto-Hanatouro" is performed every year in Higashiyama district.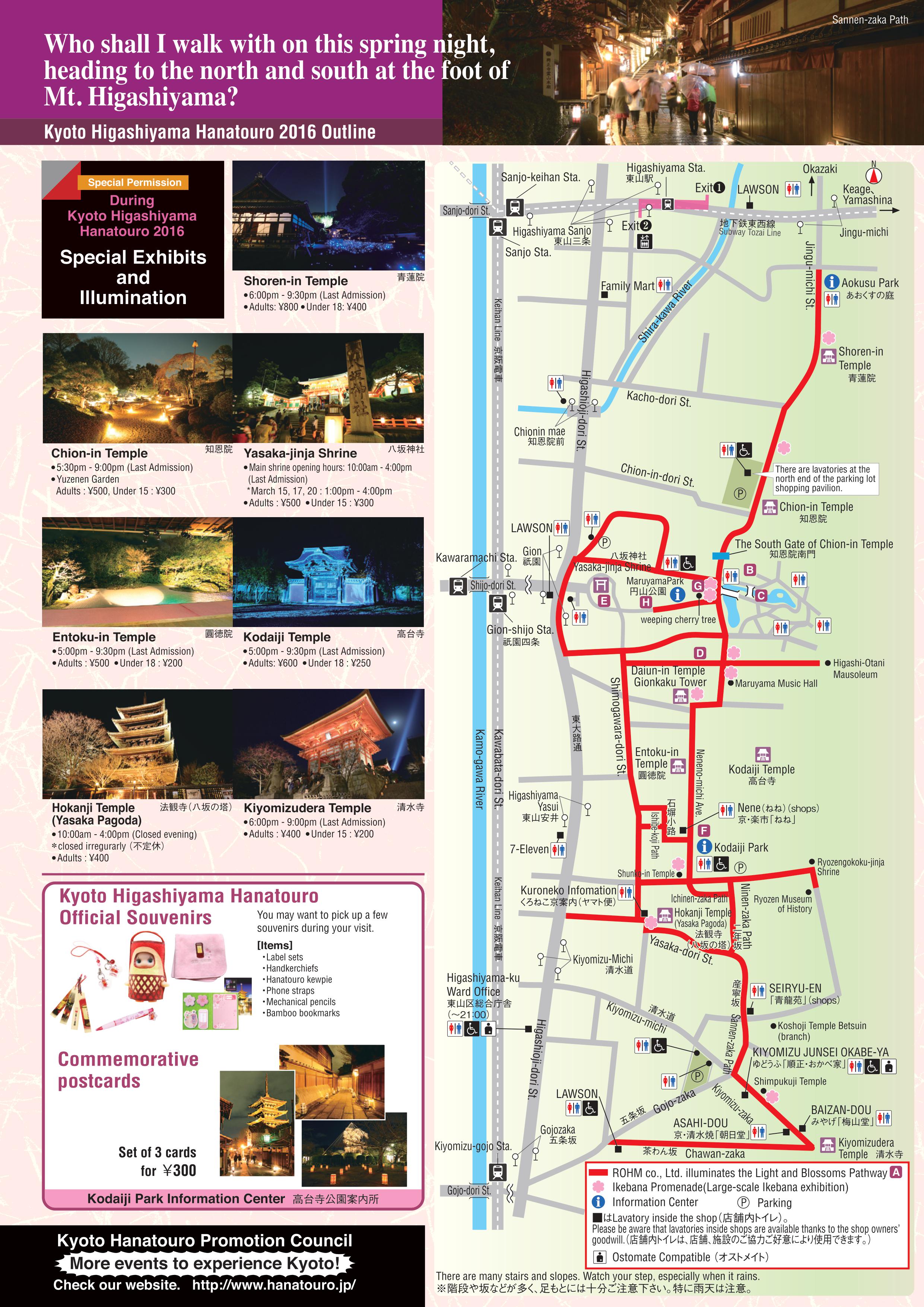 During the period of this event, a town of Kyoto is lighted up.( *´艸`)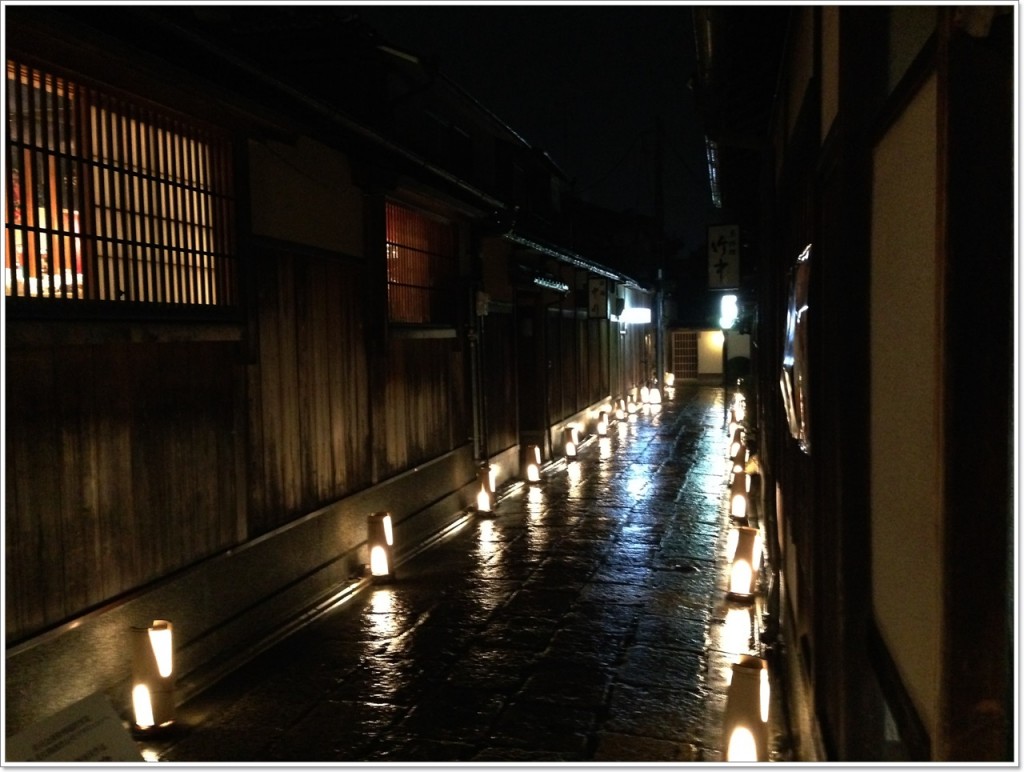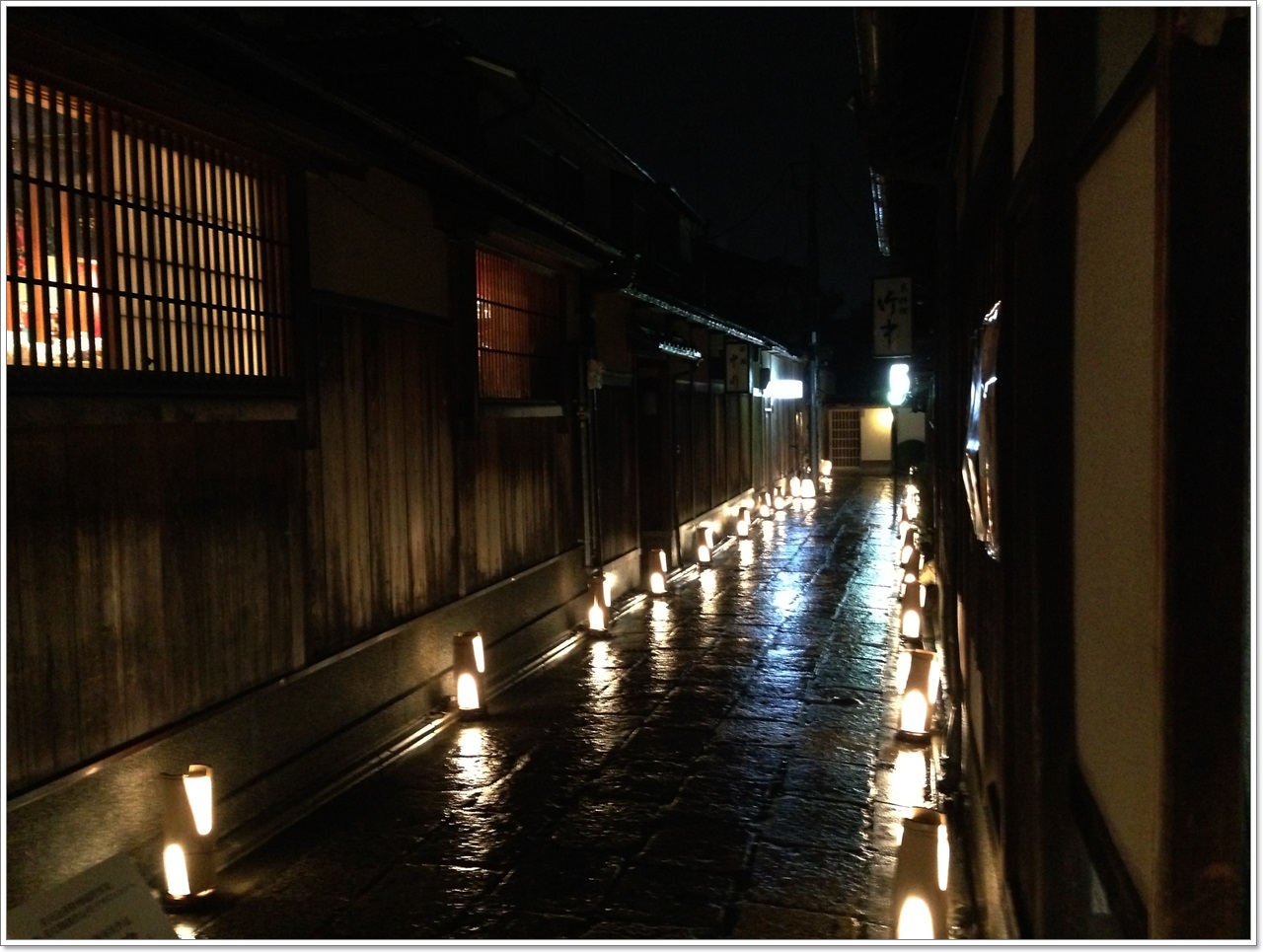 2."Shoren-in" : Blue illumination.
Shoren-in Temple is a delightful and quiet temple that exudes a palpable feeling of tranquility. It is only steps away from the bustling streets of the Higashiyama District, yet when one crosses the threshold of the temple's front gate it is as though one has stepped back into simpler, more peaceful times. You can sit and sip green tea while contemplating the first of its four gardens, enjoying the play of light upon the maple and cherry tree leaves, flowers, and moss.
Shoren-in Temple's four gardens are famous in Japan, each attributed to a different luminary of Japanese landscape architecture. The gardens are sometimes illuminated at night, and on occasion are the setting for traditional koto (Japanese zither) concerts.
The temple itself is famous for its statuary as well as for its place in Japanese history. Shoren-in Temple protected the priests Honen and Shinran, who were developers of new Buddhist sects in the 13th Century. Contemporary followers of these sects regard the temple as a particularly sacred place.
引用(citation):http://kyoto.travel/en/shrine_temple/160
You can enjoy a light up of using blue light-emitting diode in Shoren-in. And you can enjoy it slowly while sitting in the veranda.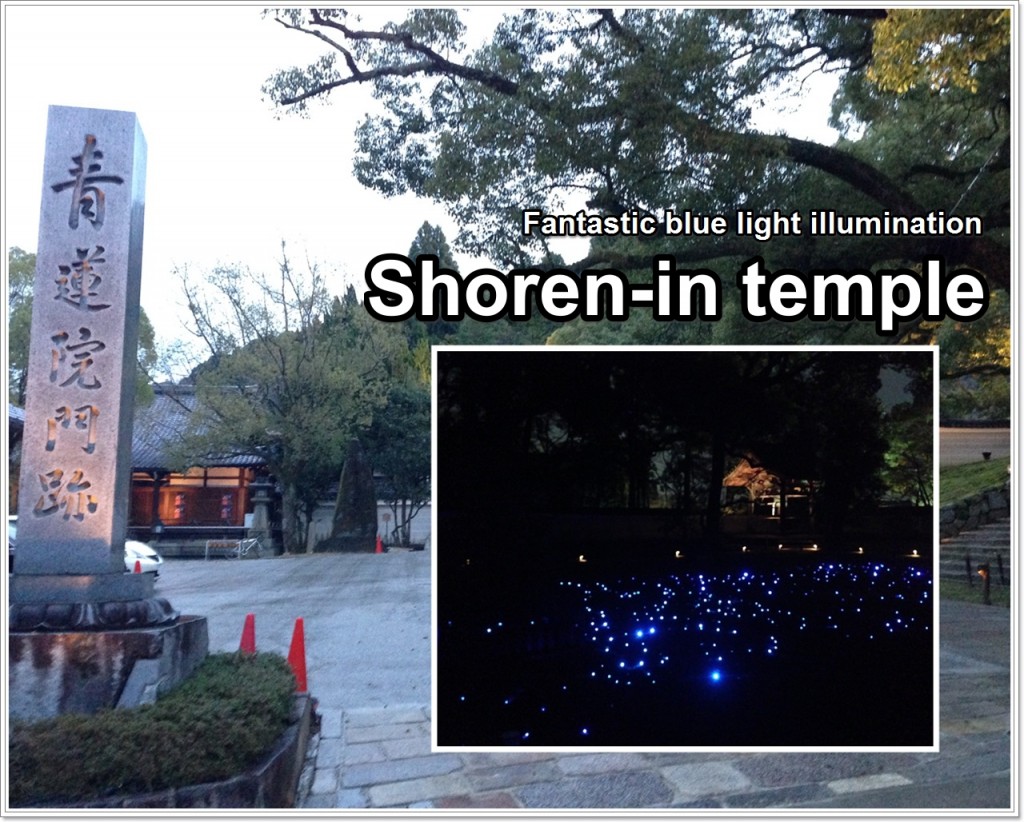 A tasteful entrance.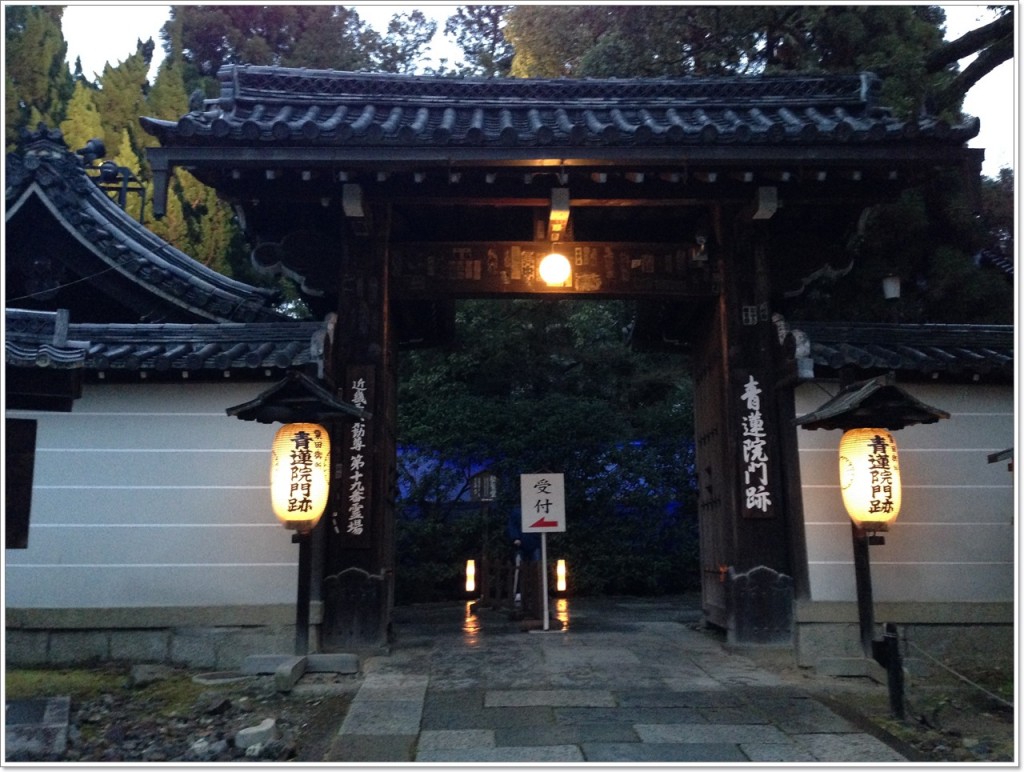 Unlike the daytime, can enjoy a night fantastic atmosphere!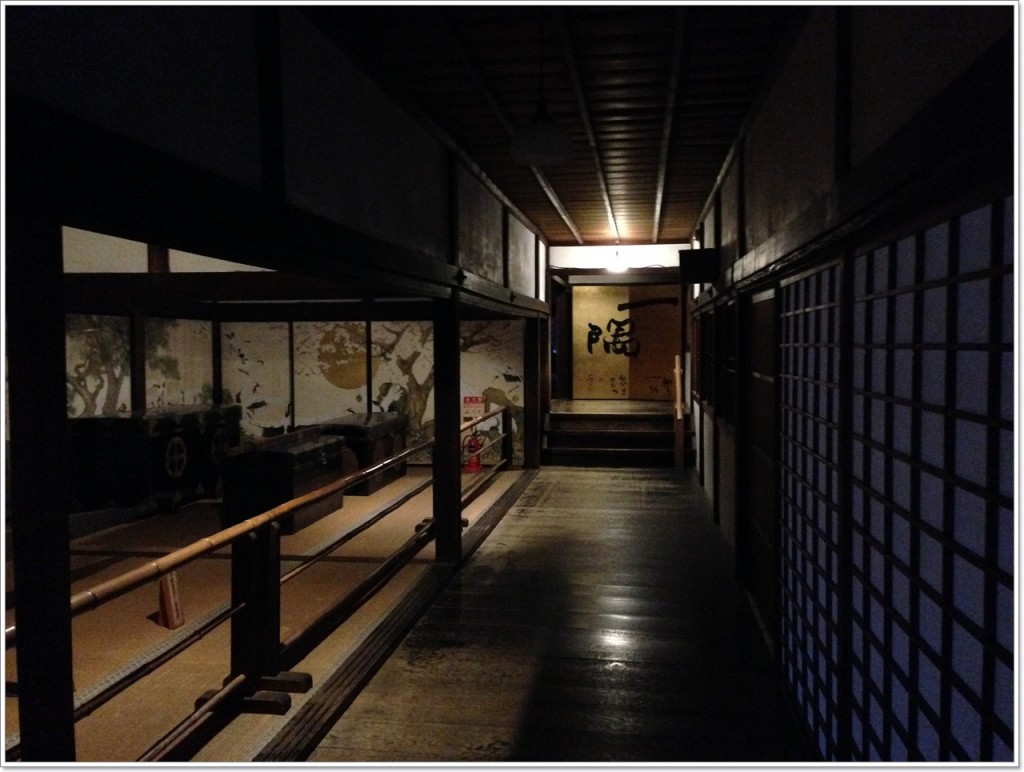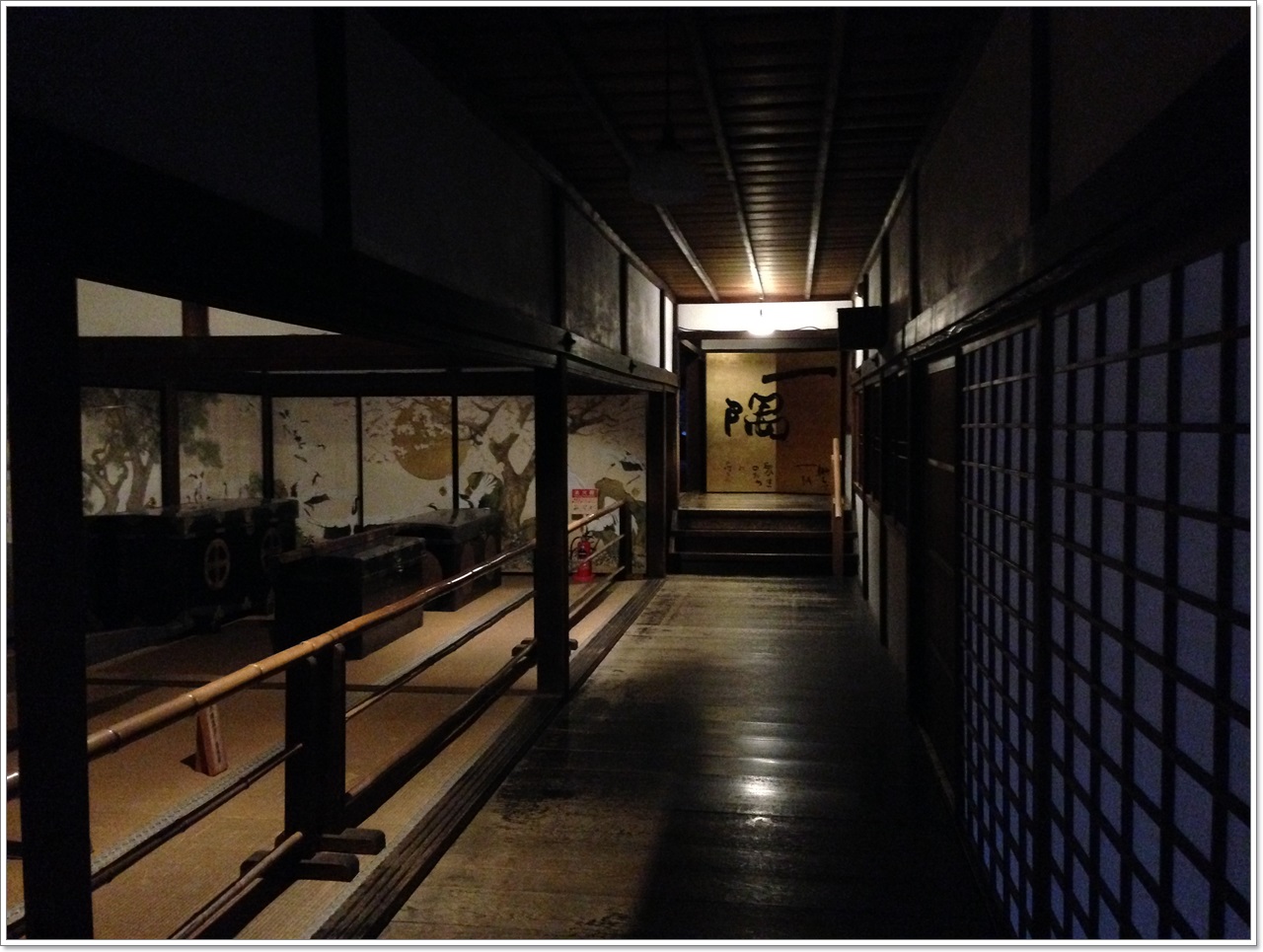 It is fantastic blue illuminations.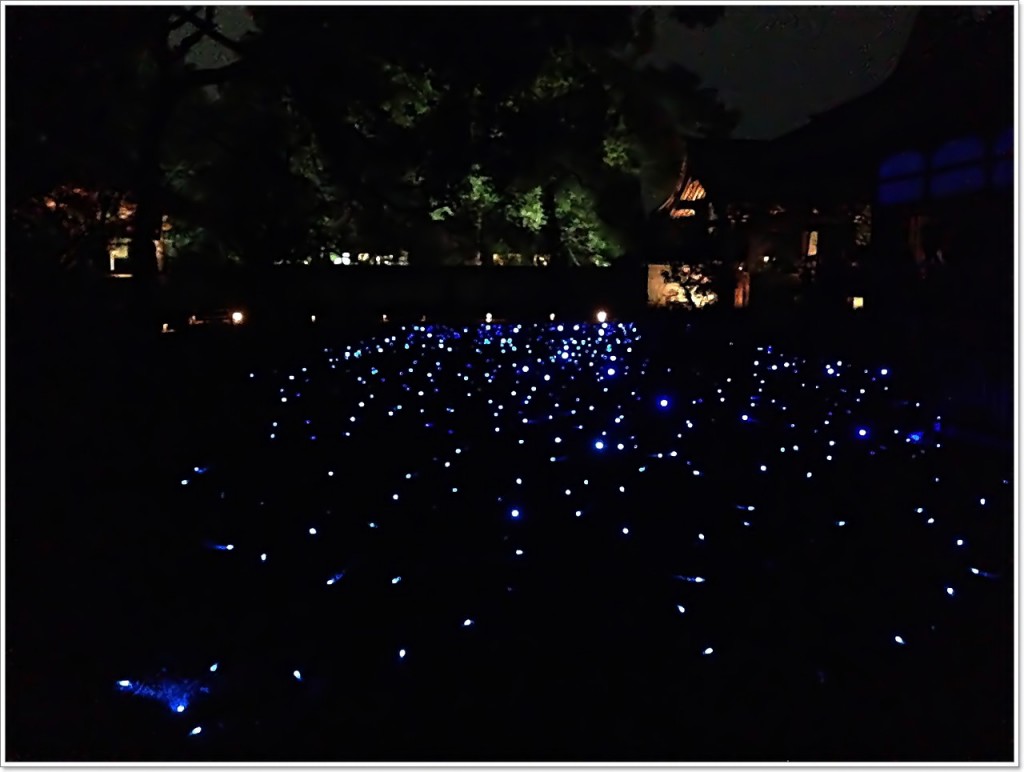 The light up of the Japanese garden is very beautiful, too.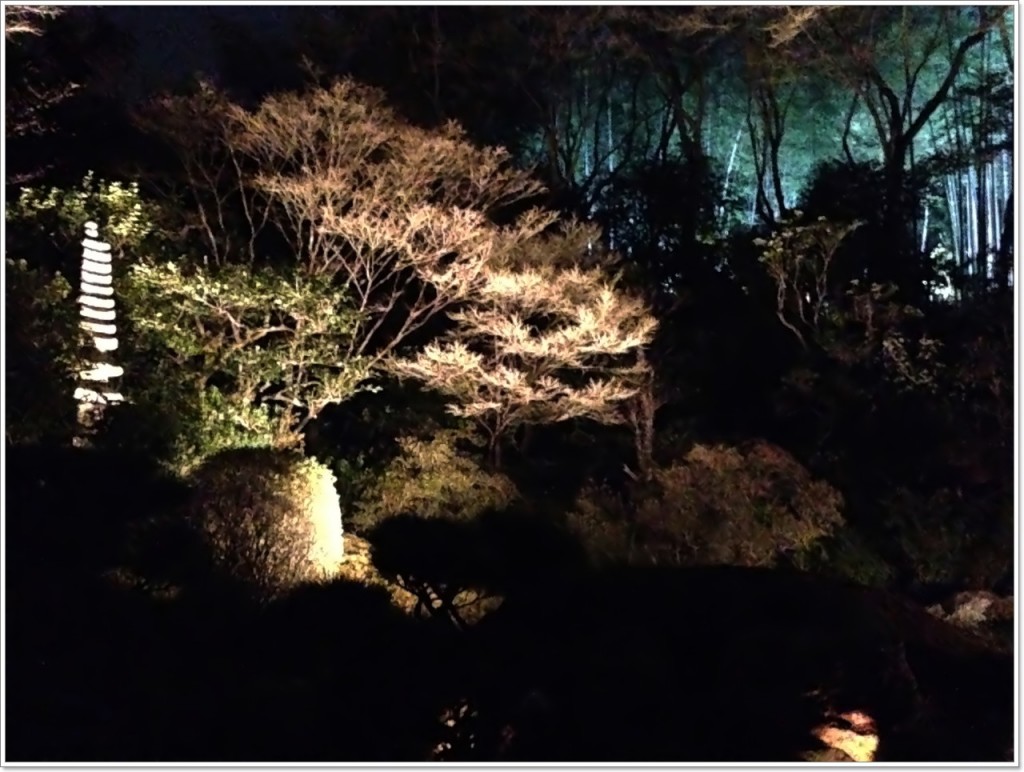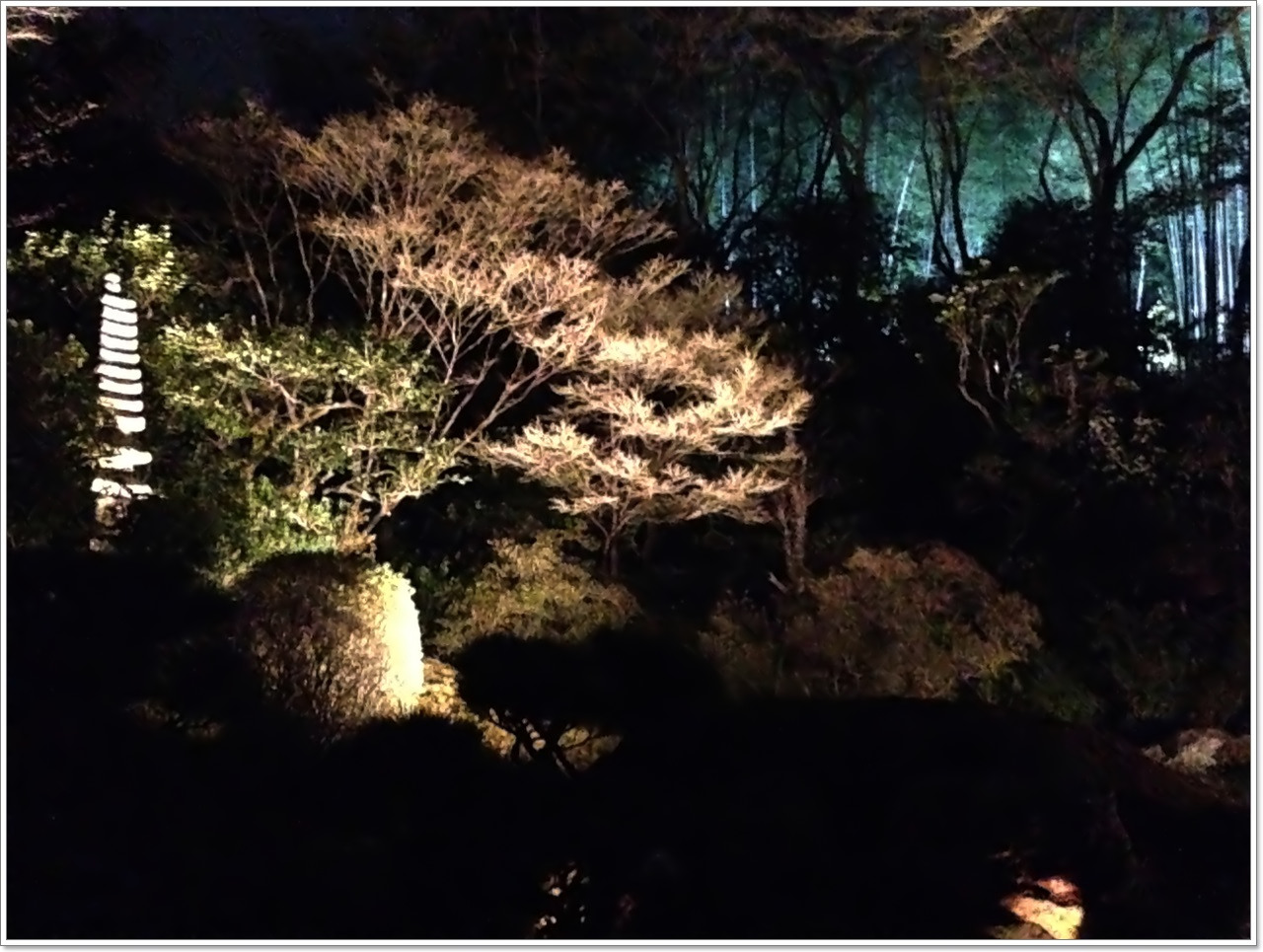 The Bell of a temple.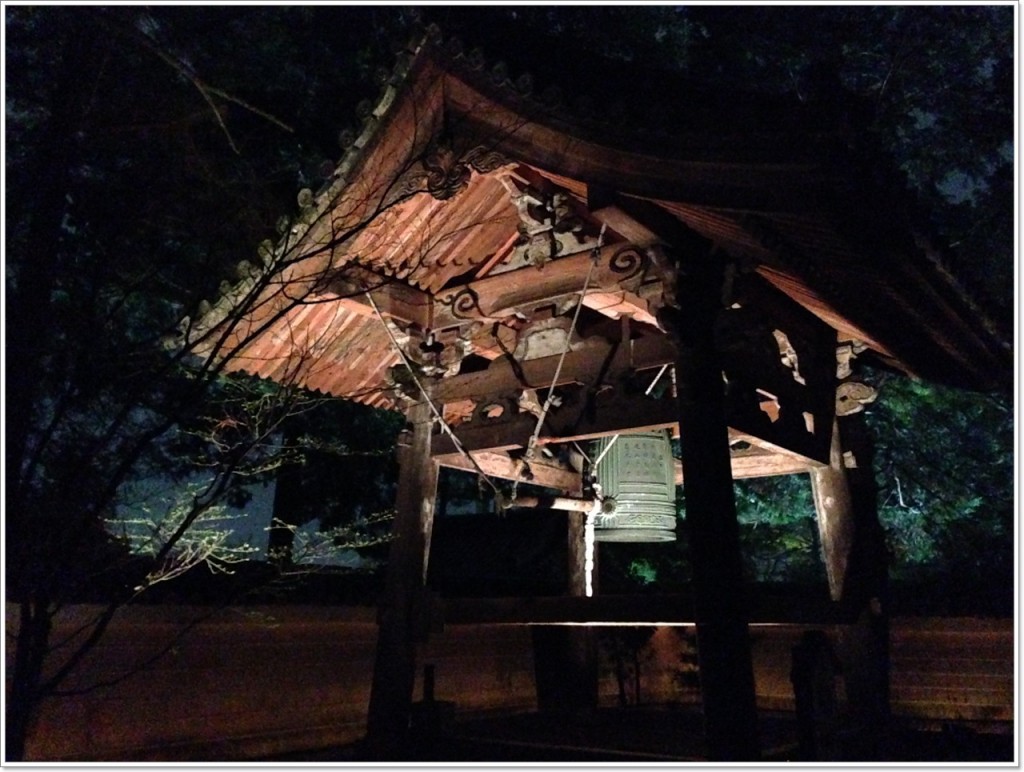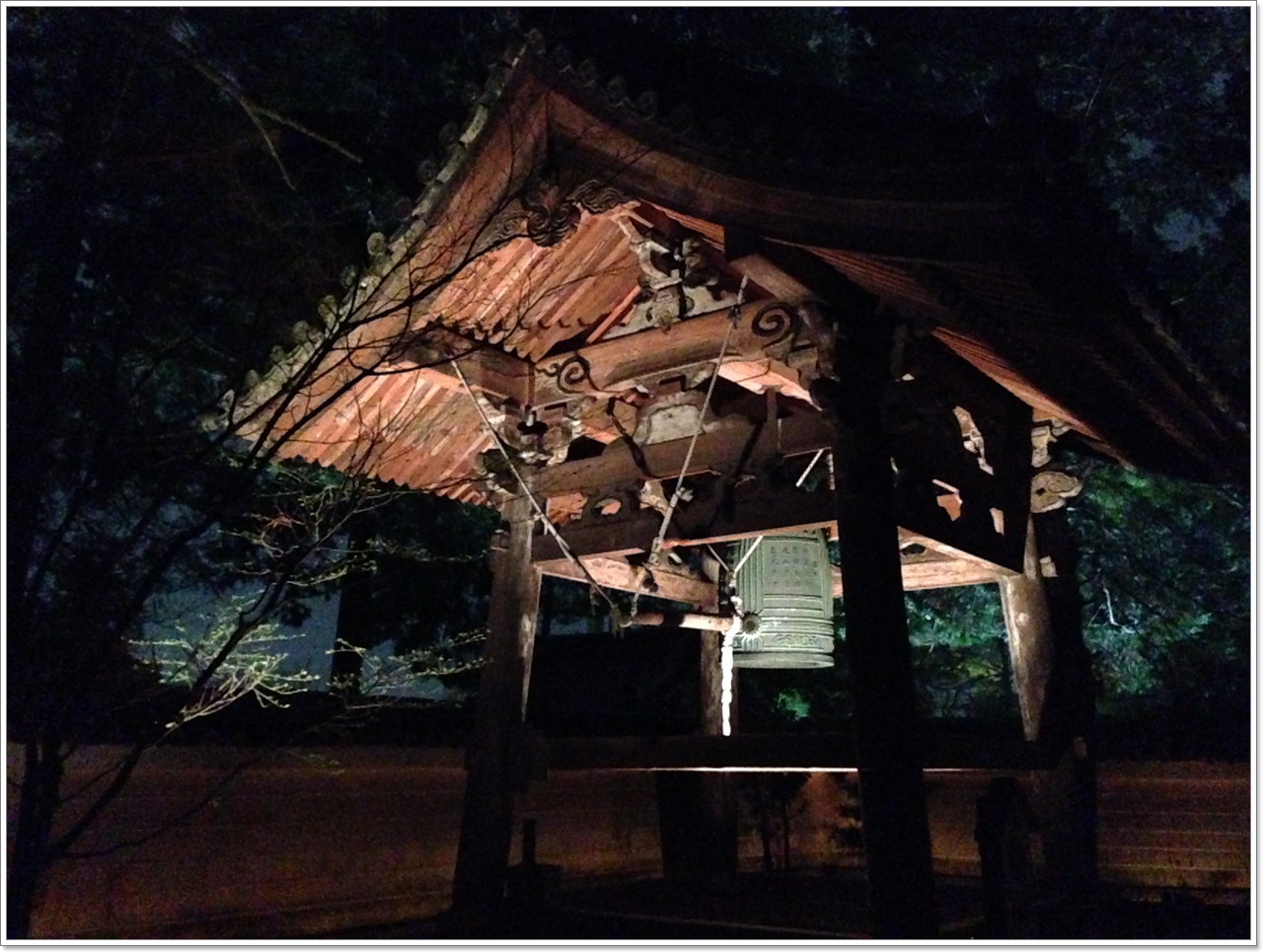 3."Chion-in" : Brilliant illumination of the Japanese garden.
Chion-in Temple is a large and very popular temple. Its massive front gate, the largest of its kind in Japan, is an awesome sight. The grounds are often full of people who pray in front of the images of the main hall. You may see people standing in front of a large brazier, holding small sticks of incense, or waving the fragrant smoke over their heads in an effort to receive inspiration and wisdom.
The temple also has the largest bell in Japan on its grounds, one that reputedly weighs more than several city buses! Standing just north of Maruyama Park and Yasaka-jinja Shrine, the temple grounds are free to enter and are a natural part of any walking tour of Kyoto's Higashiyama District.
The temple began its days as a modest hut occupied by the priest Honen, founder of the influential Jodo (Pure Land) sect of Buddhism. His teachings were simple to grasp and attracted a large following. Chion-in Temple is now the head temple of the Pure Land Sect of Buddhist movement.
引用(citation):http://kyoto.travel/en/shrine_temple/151
At "Chion-in", you can enjoy the illumination of the Japanese garden and the national treasure named "Sanmon (Main Gate)".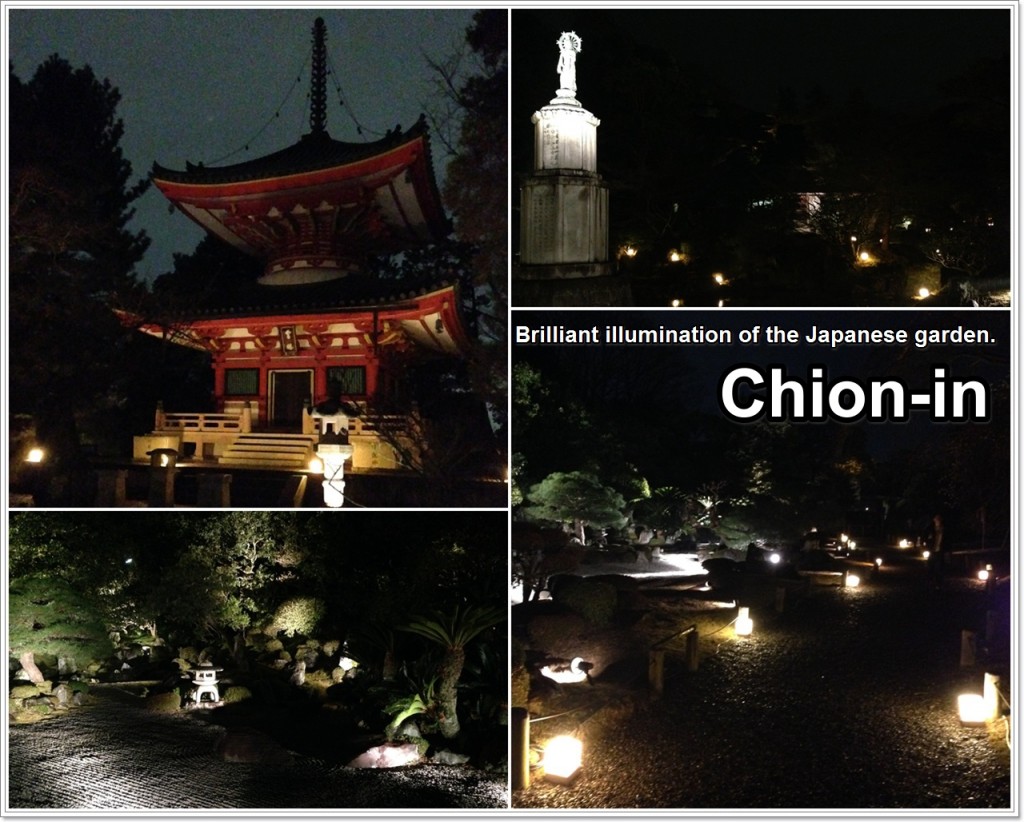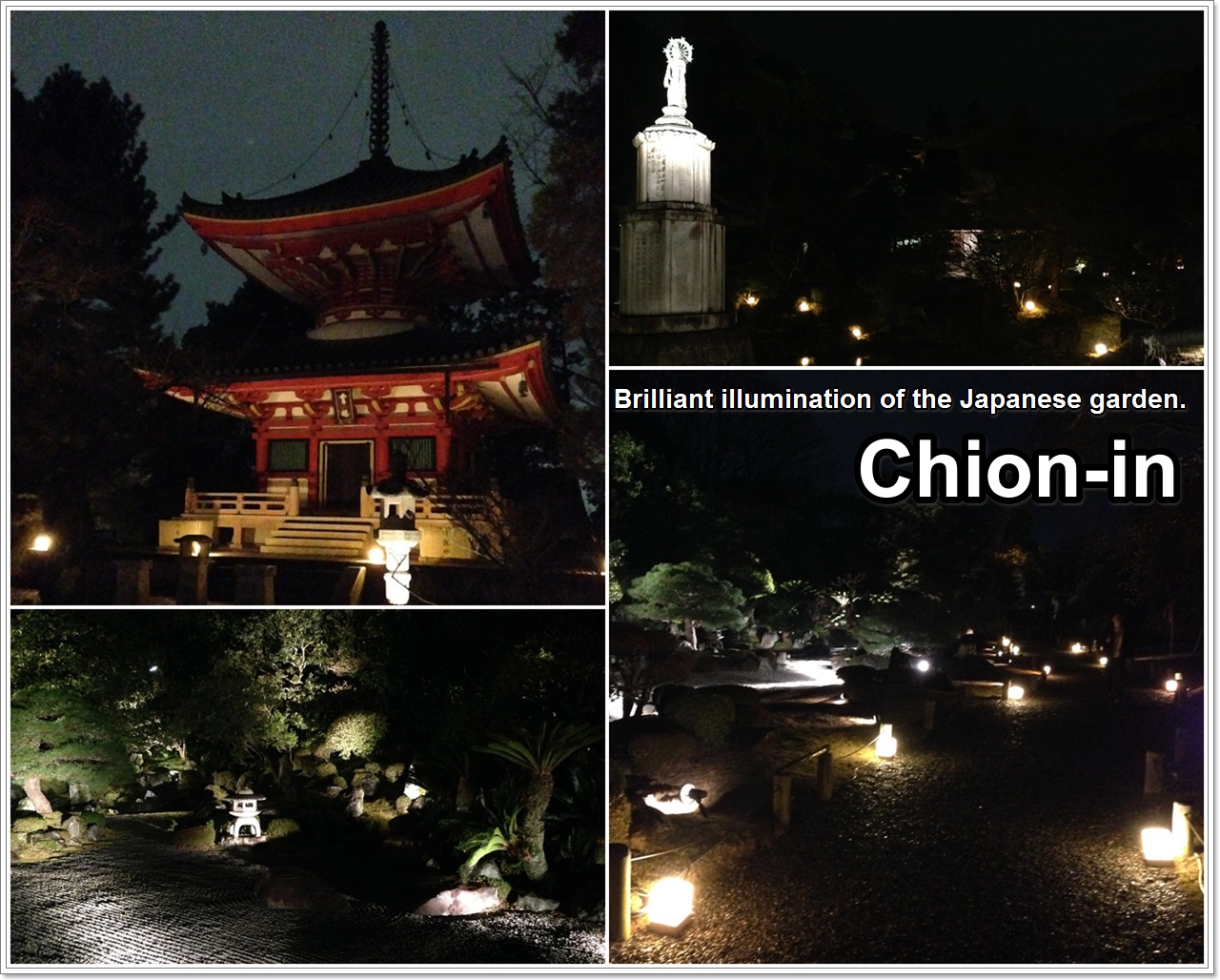 "Sanmon(Main Gate)" is the national treasure of Japan.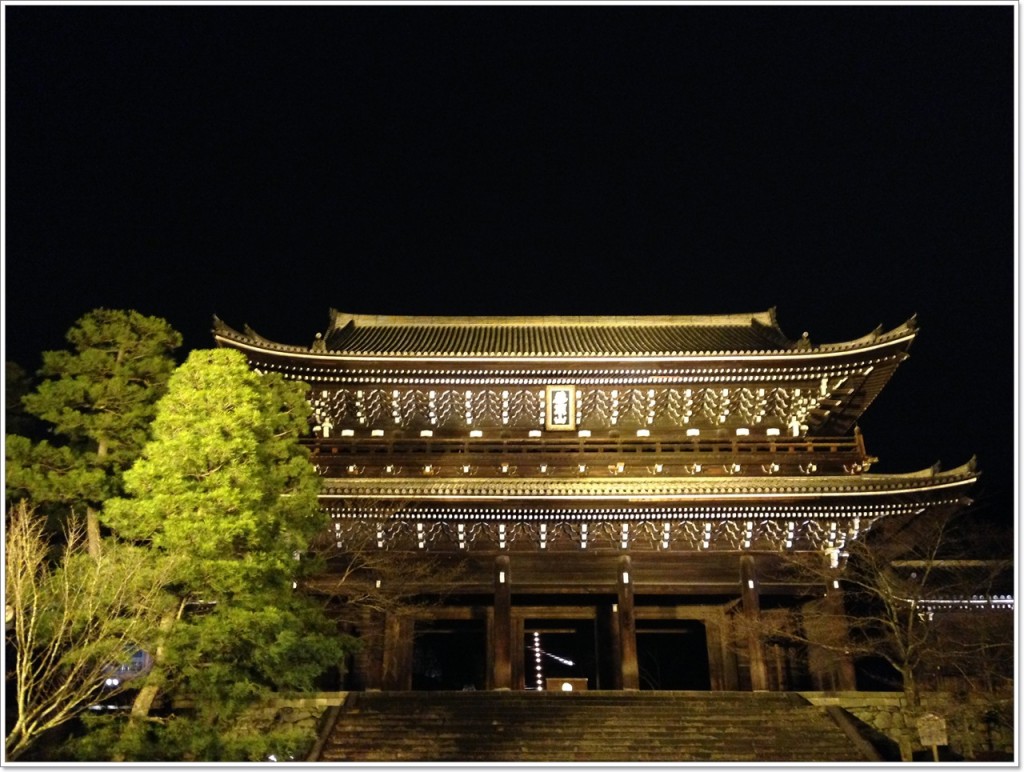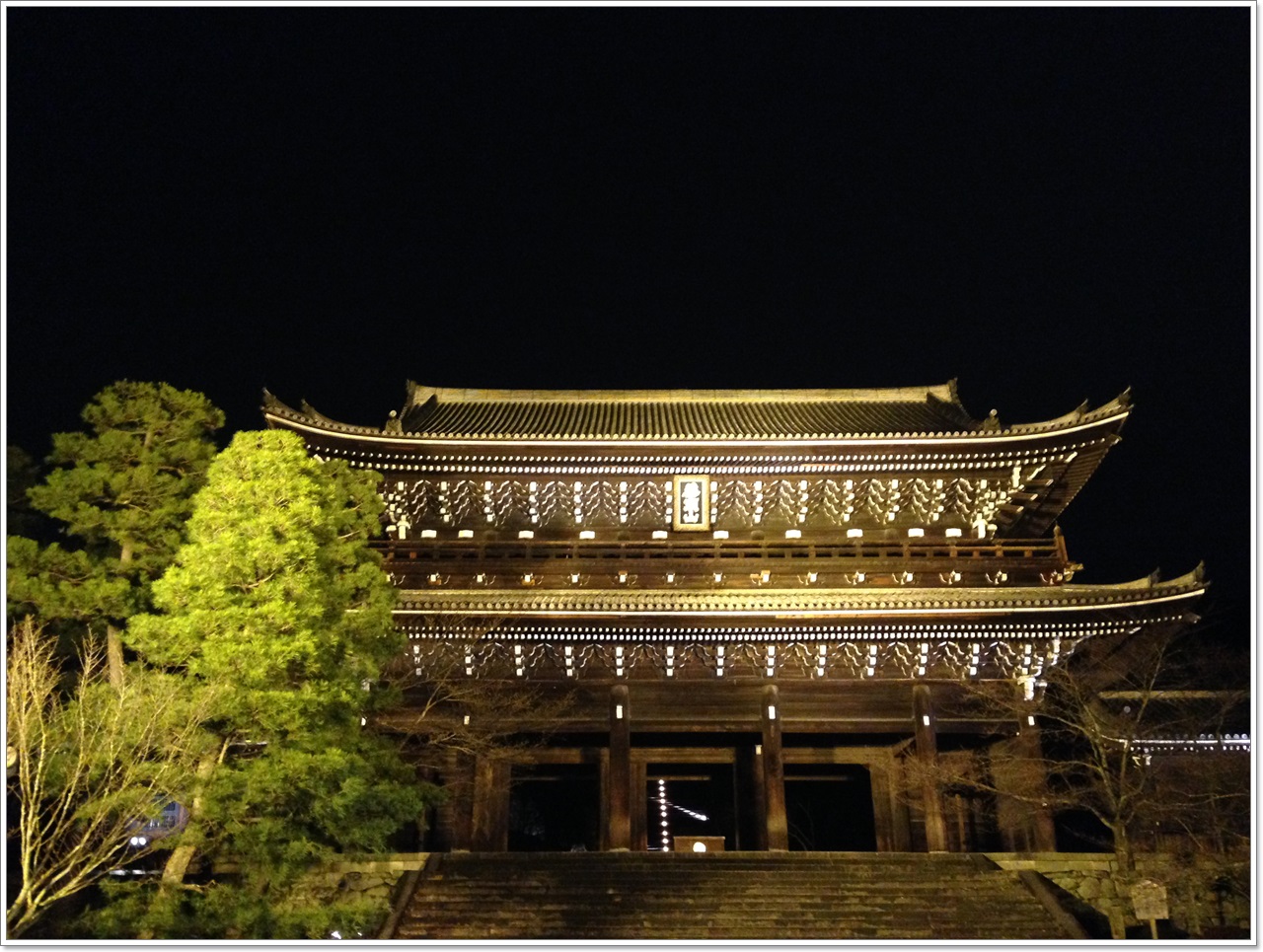 Light-up of the Japanese garden named "Yuzen-en"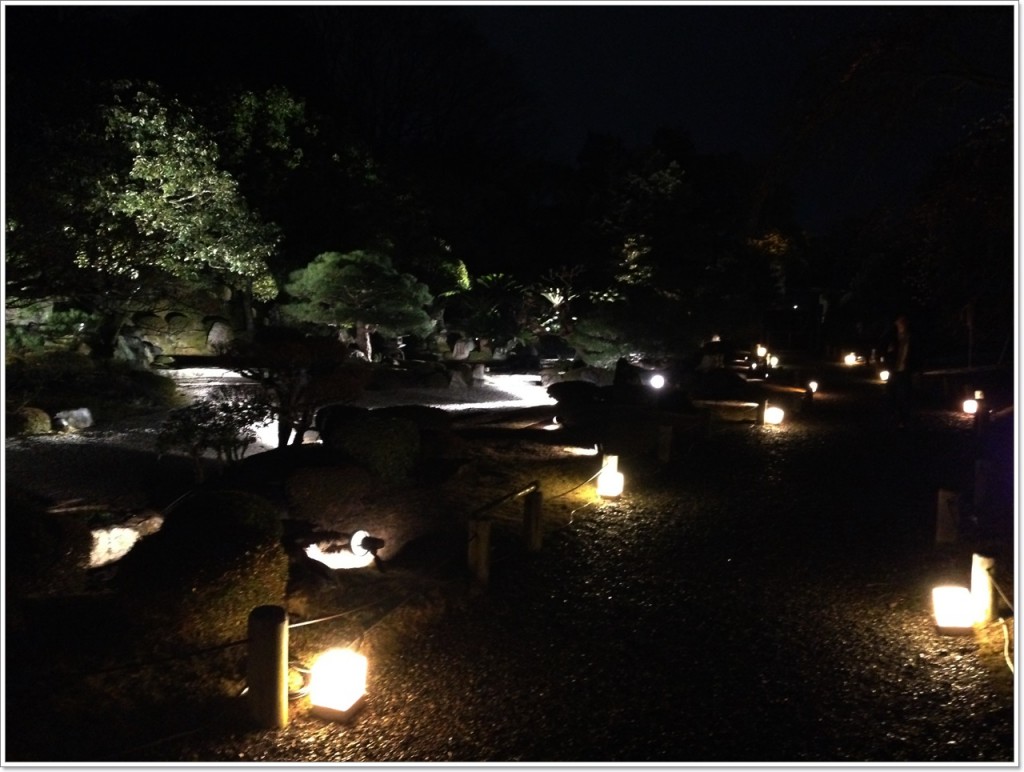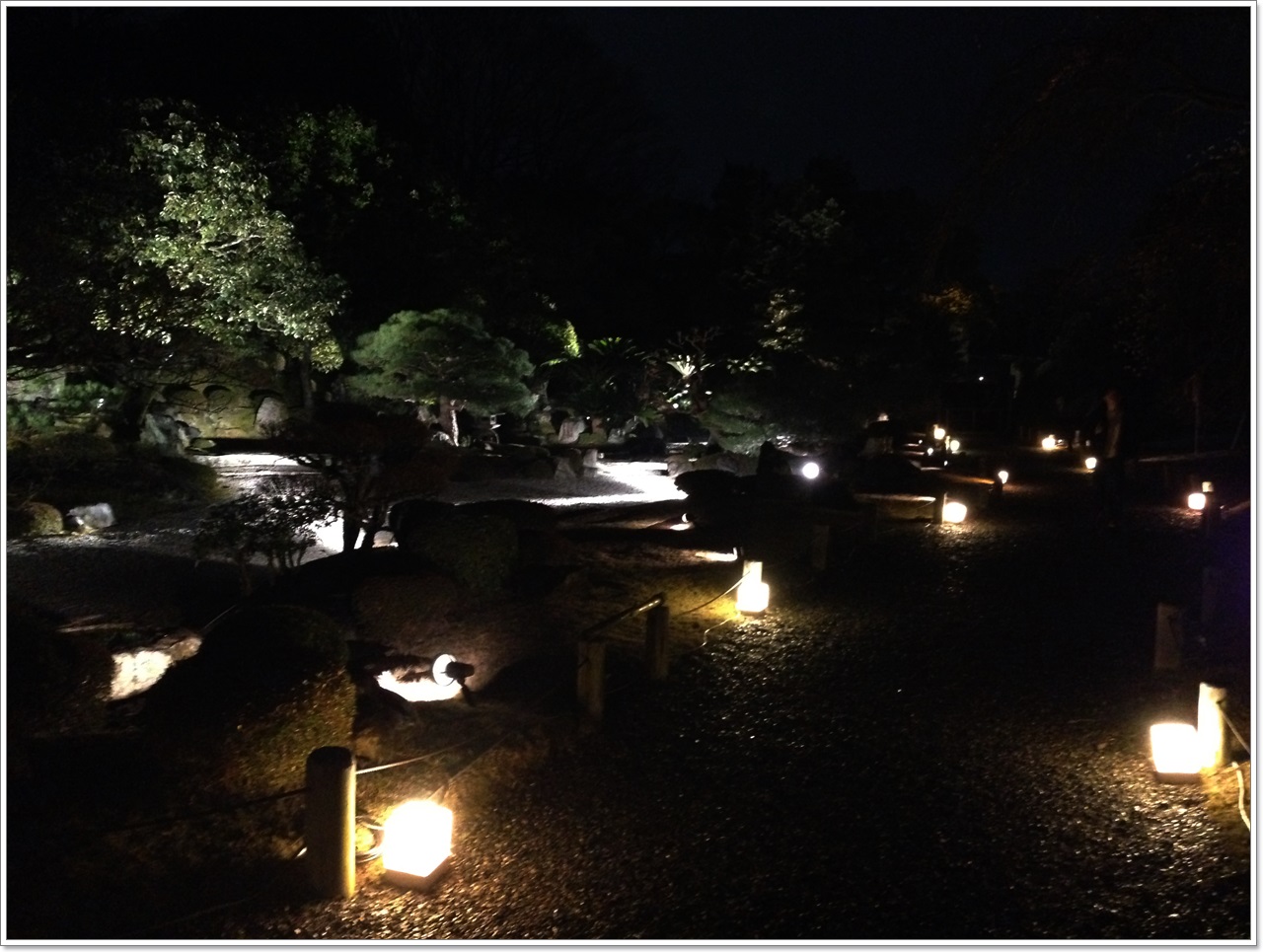 It is a solemn atmosphere.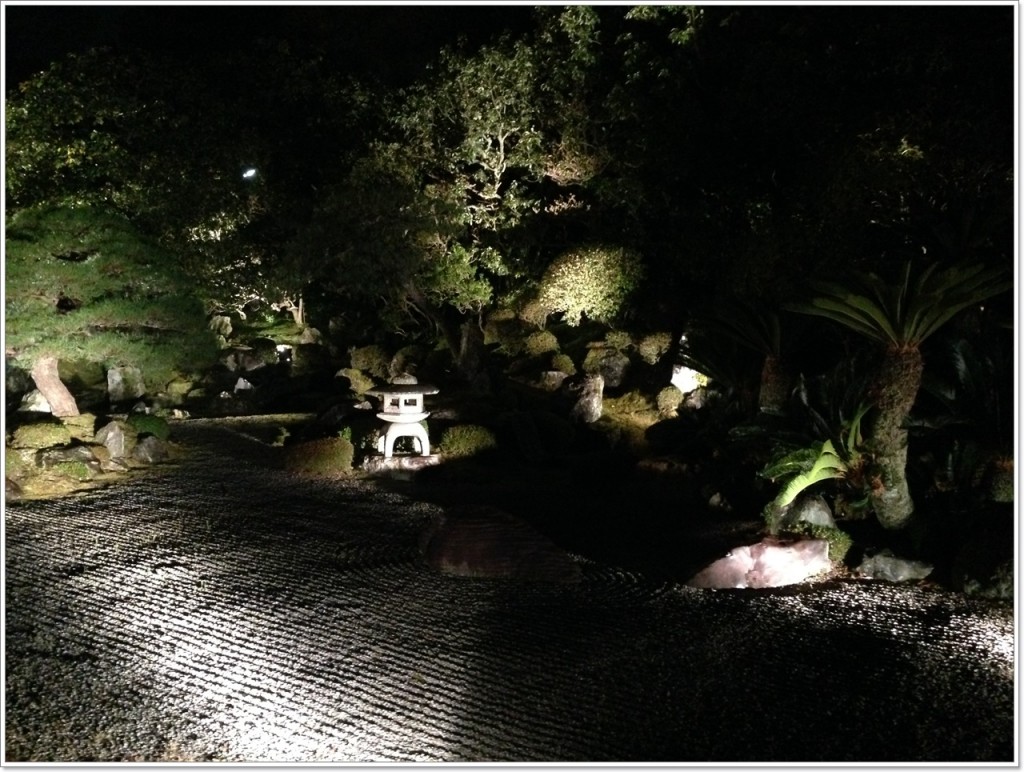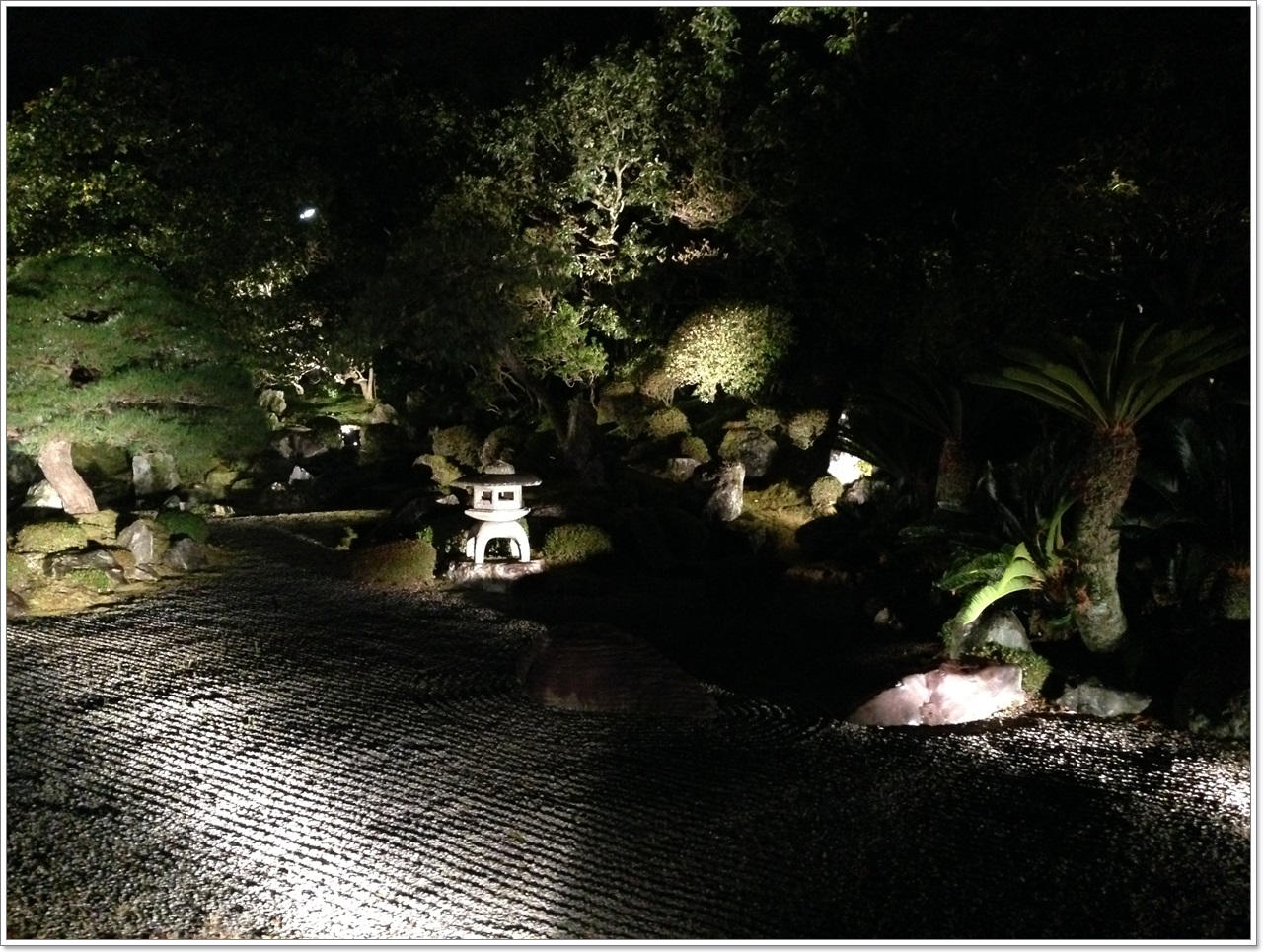 4."Kodaiji" : Fantastic bamboo forest and projection mapping.
Kodai-ji Temple is especially famous for some of the historical personages and artifacts associated with it; but it is a beautiful temple and deserves to be visited in its own right. Its walking garden is an exceptional piece of landscape architecture, featuring large stones and trees placed on a hilly landscape among elegant temple buildings, tea houses, and a bamboo grove. From the top of the hill, you are afforded great views of not only the temple grounds, but of much of Kyoto.
The two teahouses, named Kasa-tei (umbrella shaped bower) and Shigure-tei (house of drizzling rain) are classics designed by Sen-no-Rikyu, a famous master of tea ceremony. The roof of Kasa-tei is made of logs and thin bamboo, lending it the appearance of a traditional umbrella, hence its name.
The temple contains the mausoleum of Toyotomi Hideyoshi (1537-1598), the great warlord who unified Japan after centuries of ceaseless warfare. Statues of Hideyoshi and his wife are enshrined there. The temple is also famous for the style of lacquer created for its furnishings, in which special effects were achieved through the sprinkling of gold flakes into the lacquer. Several pieces of lacquer ware are on prominent display within the temple.
引用(citation):http://kyoto.travel/en/shrine_temple/157
The highlight of Kodaiji is fantastic bamboo forest and projection mapping. d(*゚ー゚*)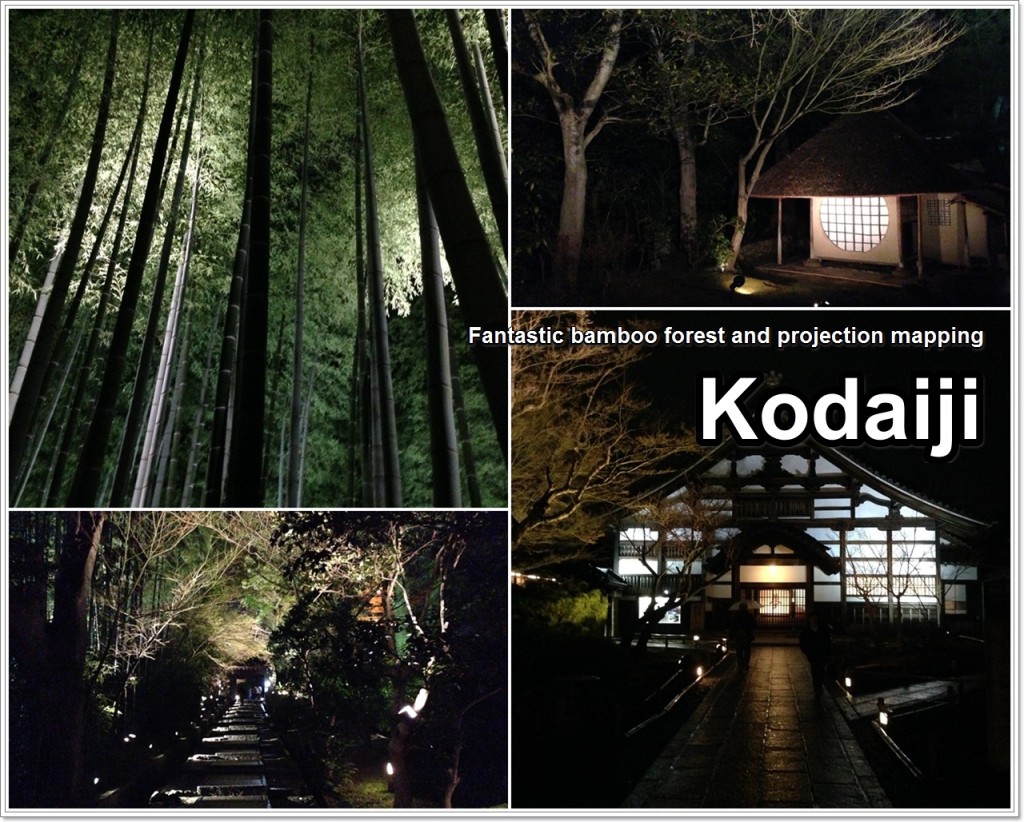 The way to Kodaiji.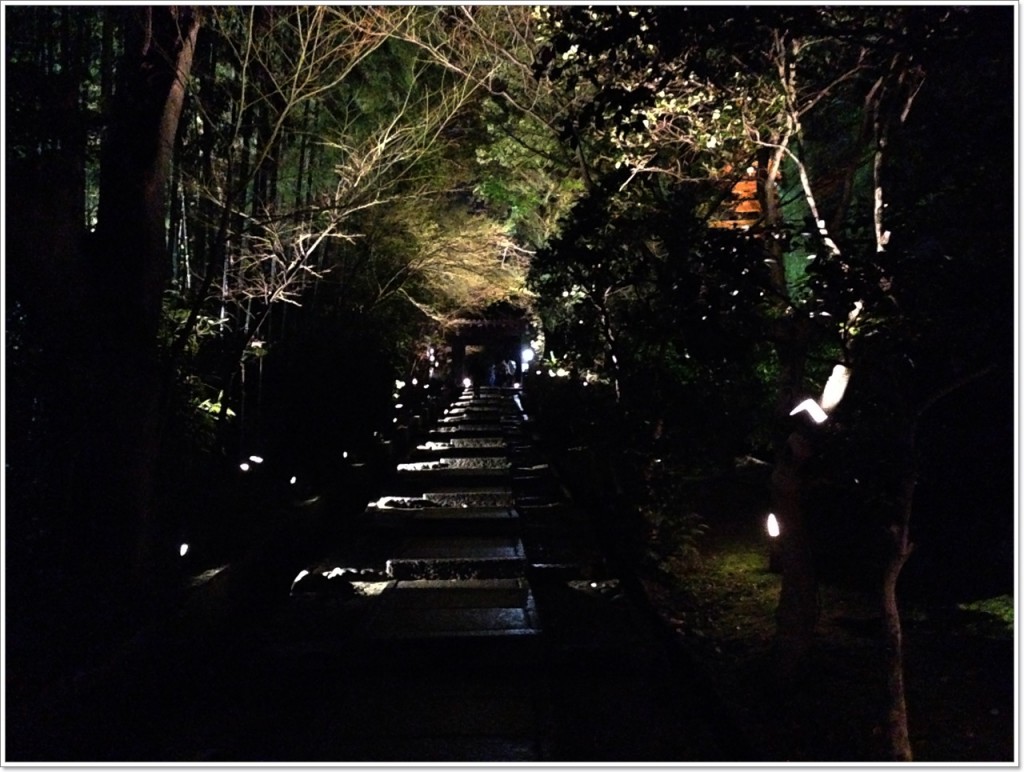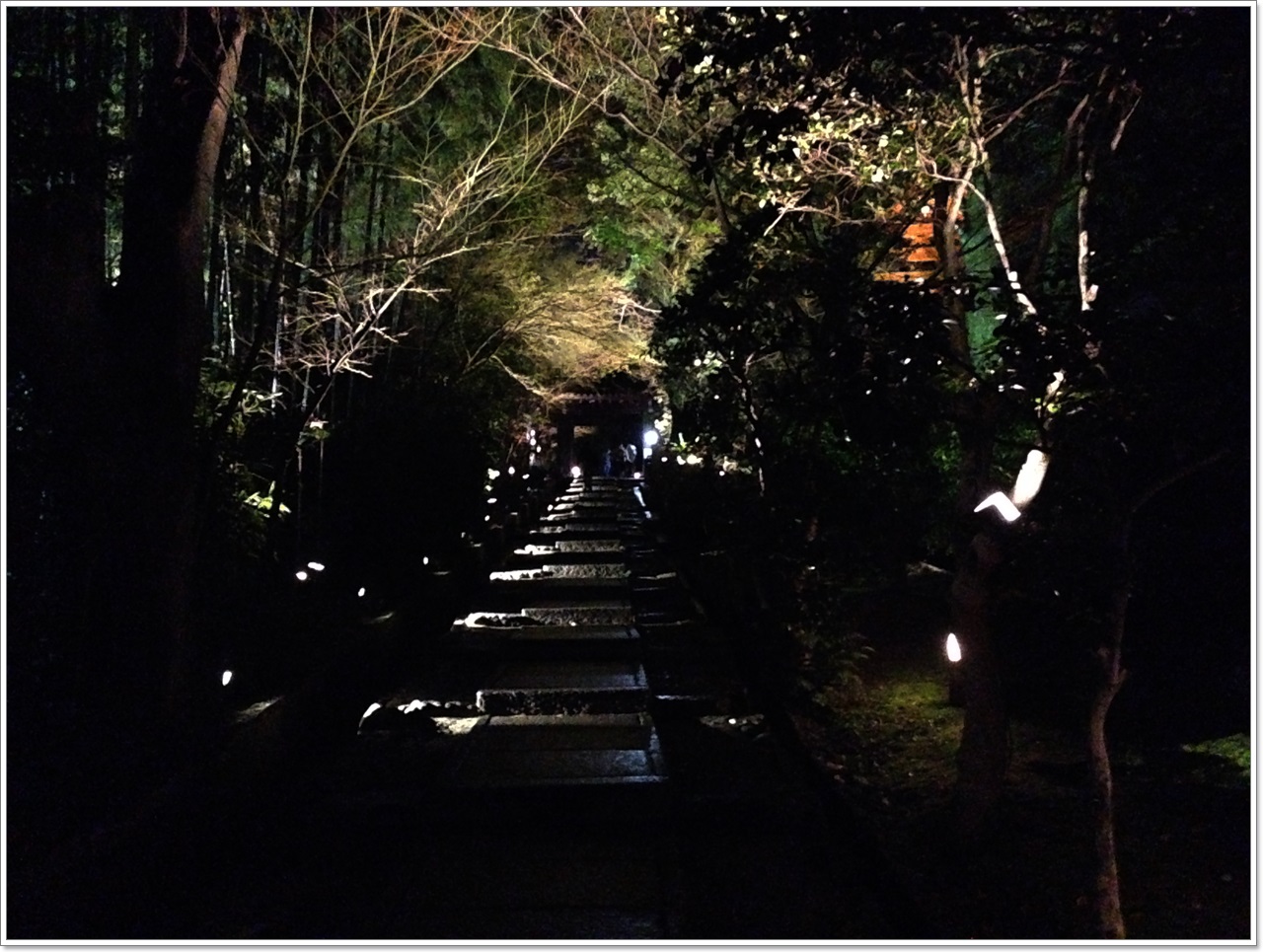 "Ihoujin" is a tea house. It is very pretty house.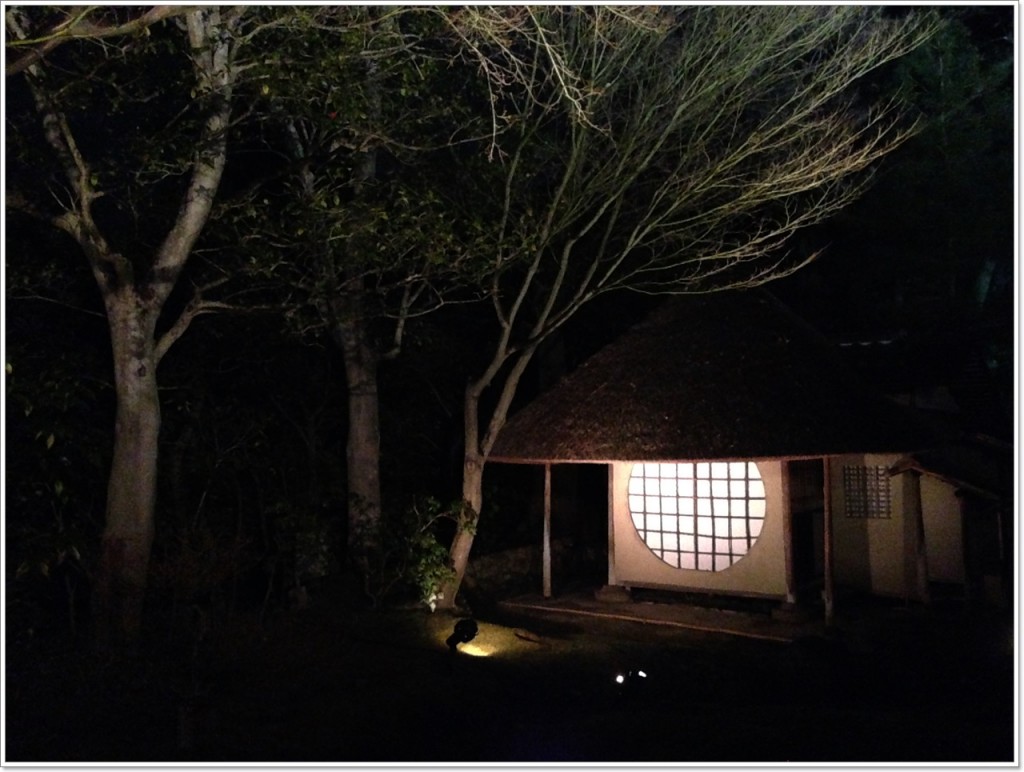 This bamboo forest is so masterful!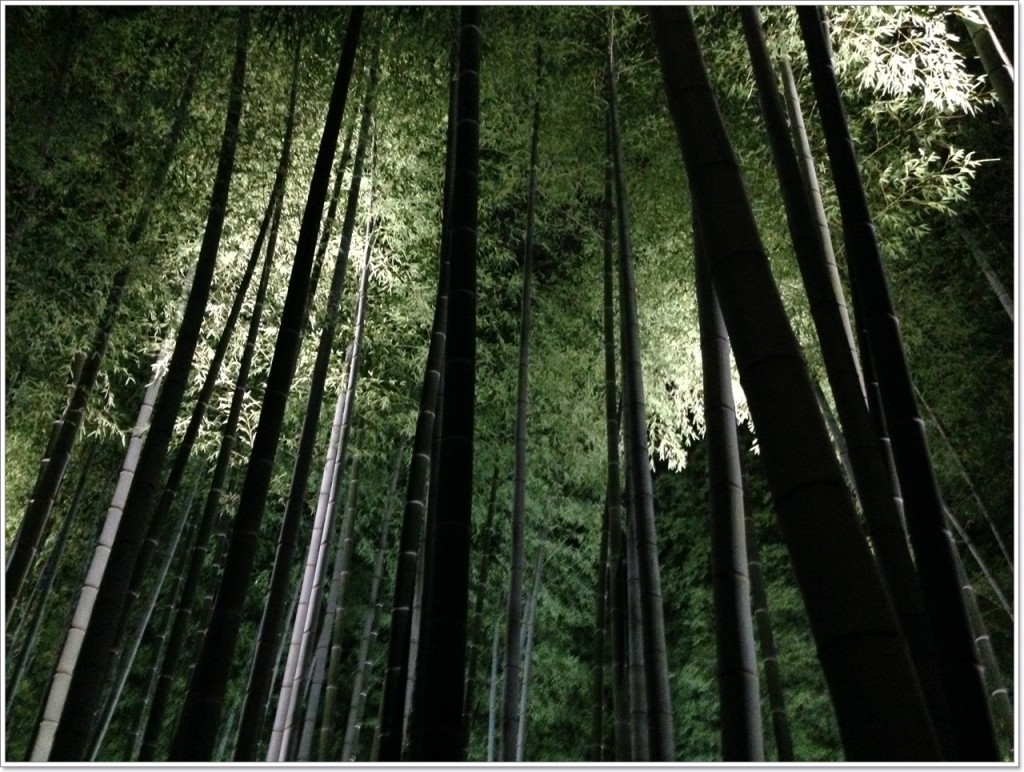 It's very solemn atmosphere…(○´艸`)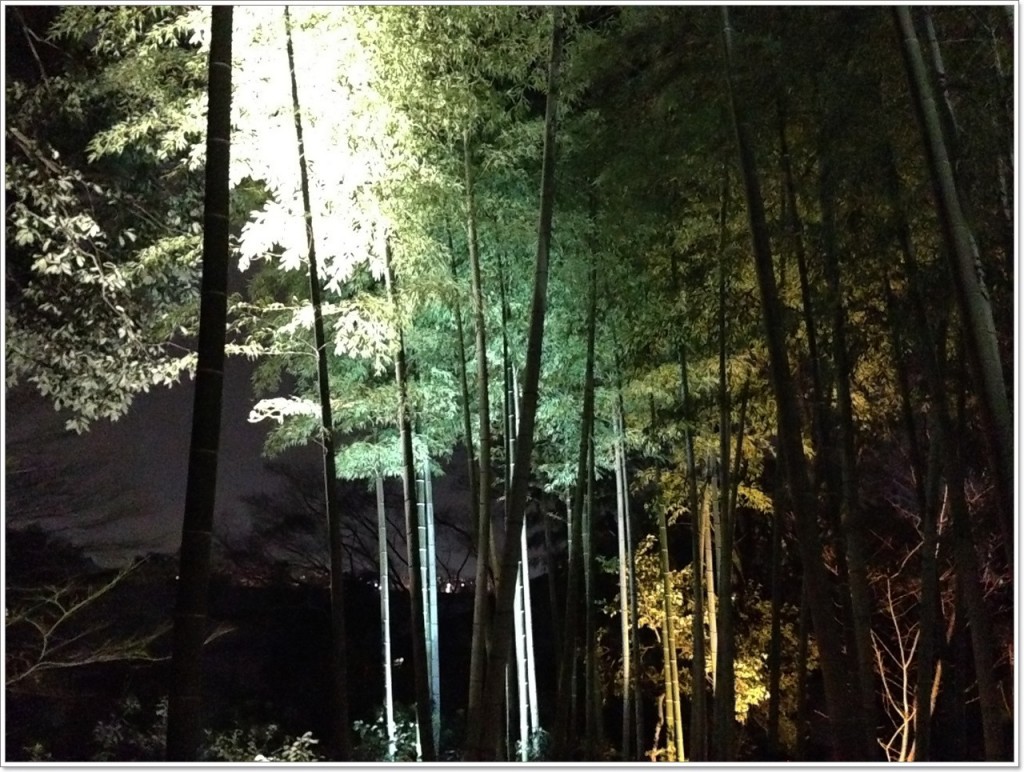 Projection mapping of Japanese style is very popular. d(*゚ー゚*)
5."Entokuin" : Colorful illumination of Japanese garden.
Entokuin was built by Nene, who was known as KitanoMandokoro (wife of ToyotomiHideyoshi) to mourn for her husband's deathin 1605.
She spent her last years here. It is a sub-temple of Kodaiji Temple, and has some of Fushimi Castle.
It has been known to have elegance gardens. The North Garden is a garden of Momoyama period, has been designated a national scenic spot. Beautiful, Zen style illumination shows are held in Entokuin's garden in the cherry blossom and autumn leaves season.
Many people come here at night. It has the sliding door, which was drawn by Hasegawa Tohaku. He was a most famous painter in Japan 400 years ago. It remains as important cultural properties.
Entokuin is not only beautiful, it's wonderful historic temple.
引用(citation):http://www.kodaiji.com/entoku-in/idx.shtml
In "Entokuin", you can enjoy illuminations of "South garden" and "north garden" which is a place of special scenic beauty.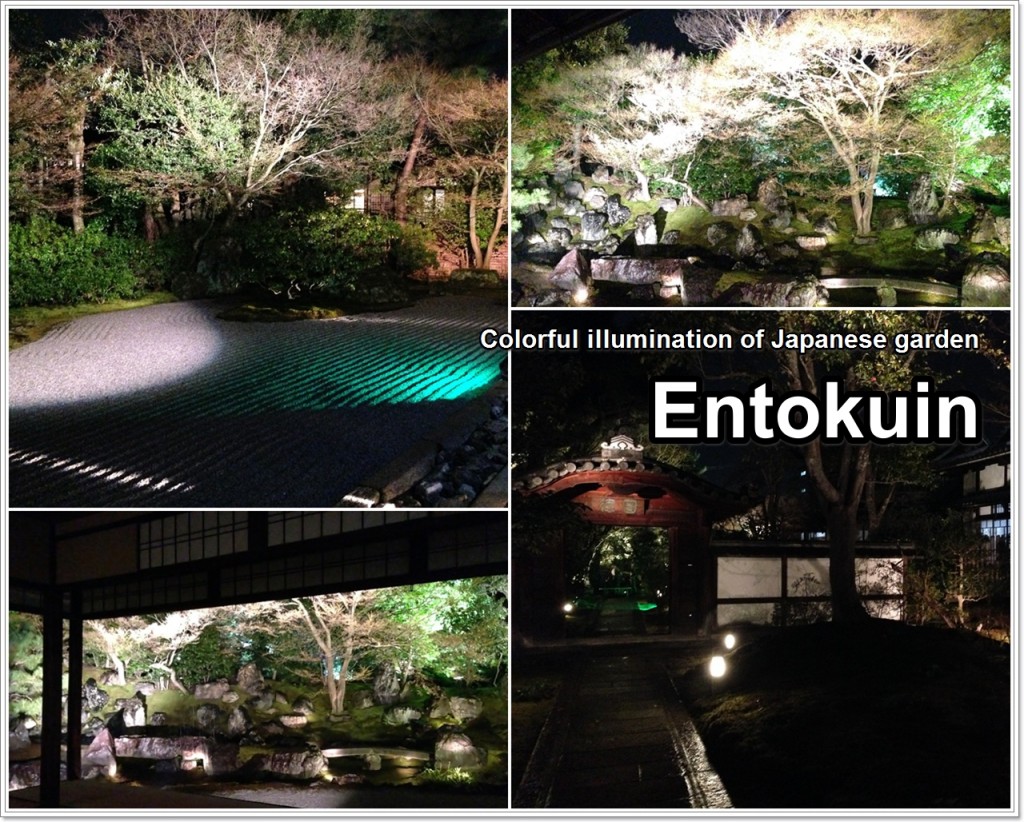 It is a quiet atmosphere…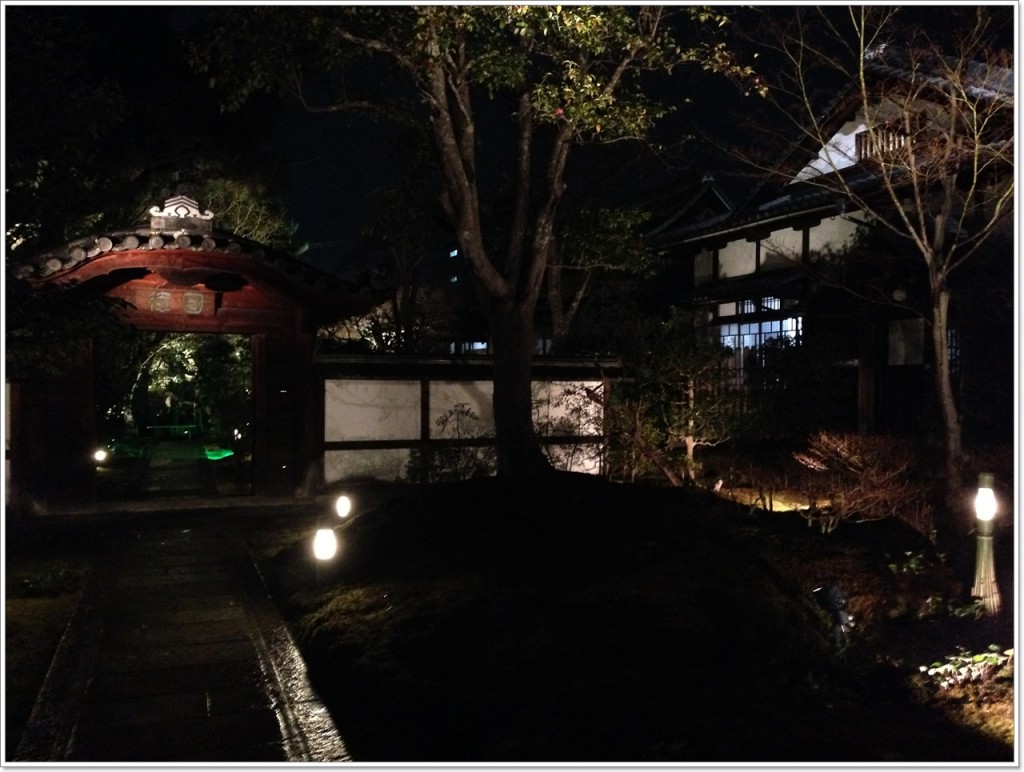 South garden.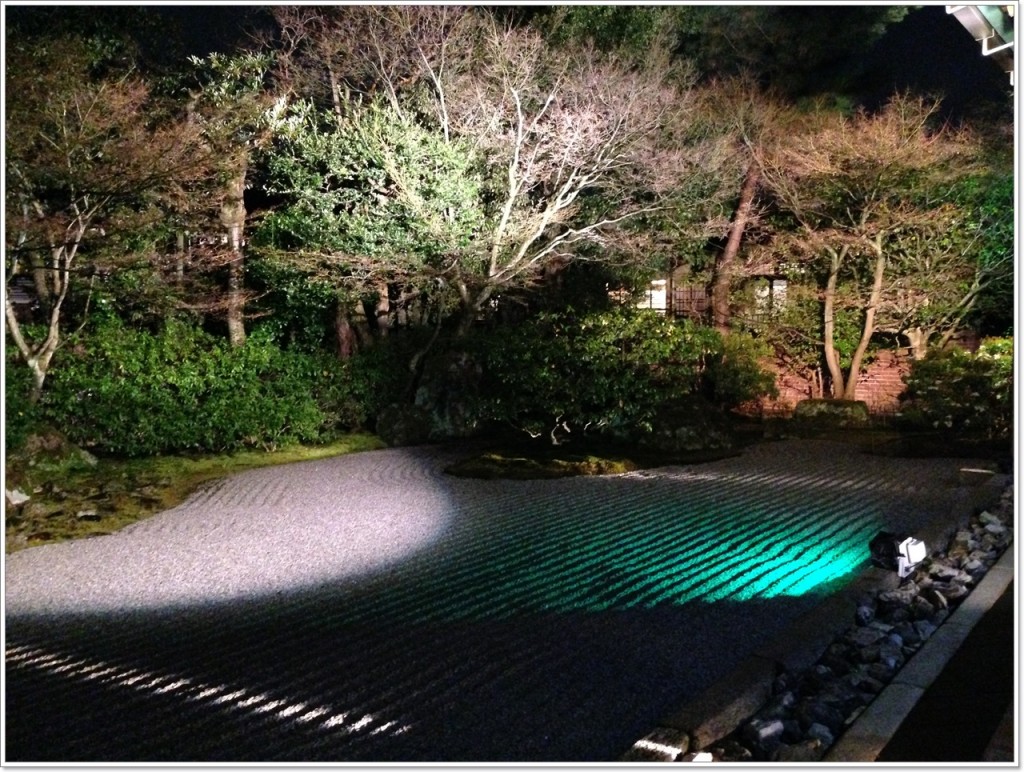 North garden is a place of special scenic beauty in Japan. d(*゚ー゚*)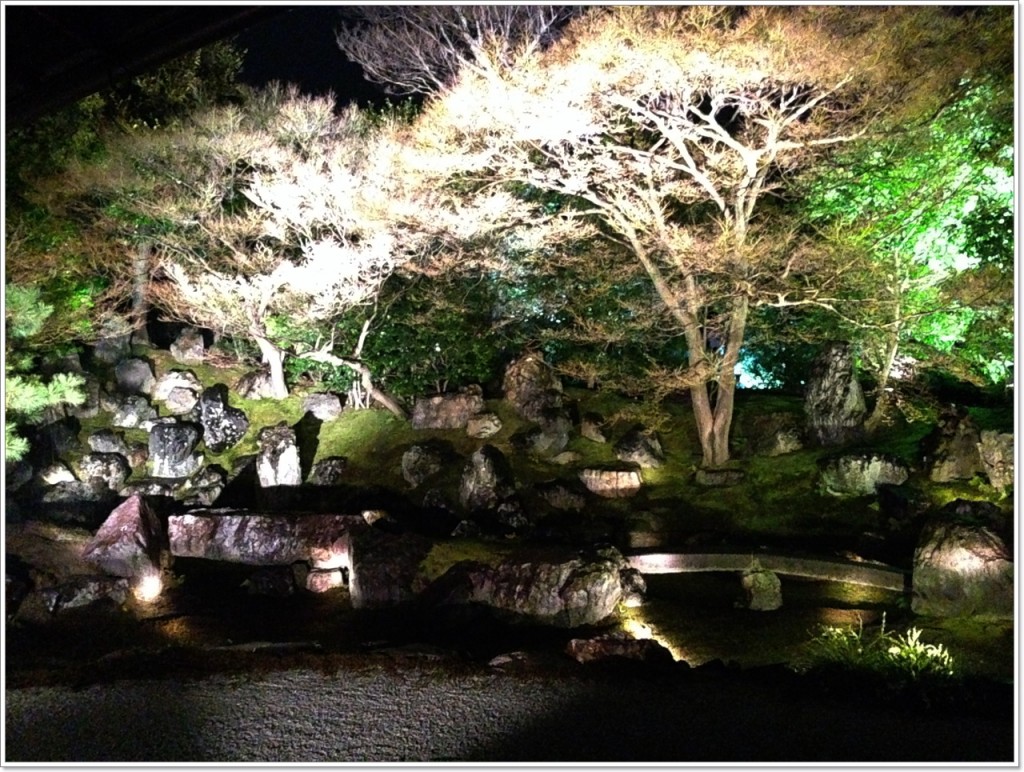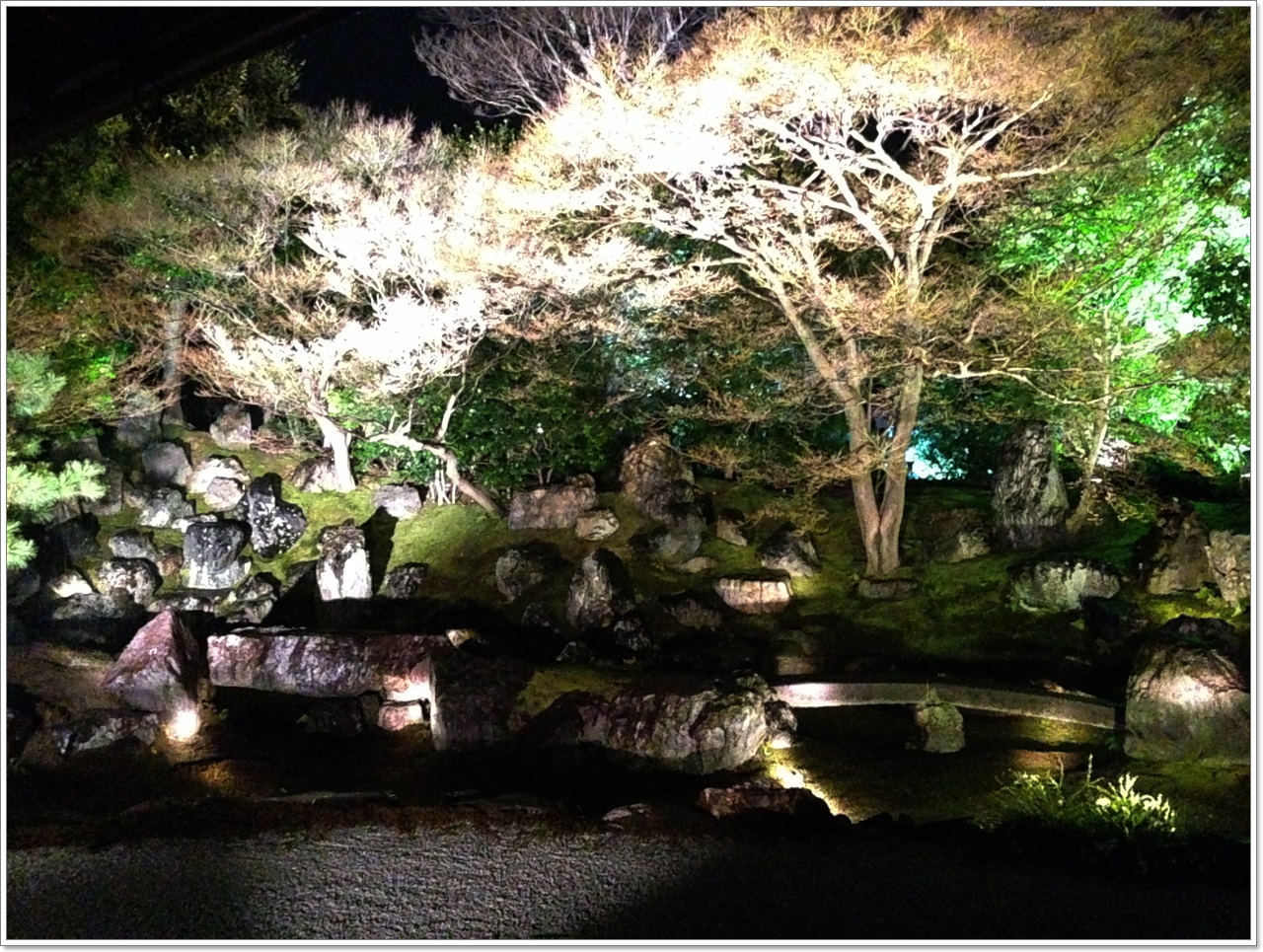 How did you like it?
Please try to go.
Have a nice trip! XD
<Let's search the sightseeing information of Kansai in Japan on 'Japan's Travel Manual'!!>
<This site introduces the easiest way to get Japanese (Kansai) sightseeing spots to you.>